Top Noris Bank checking account
All terms at a glance
| | |
| --- | --- |
| Account management: |   |
| Cost: | 0 € a month |
| Conditions: | – |
| Current bonus offer: | – |
| Cards: |   |
| EC-/Maestro: | yes, free |
| Credit Card: | Mastercard free |
| Interest: |   |
| Credit interest daily allowance: | 0.70% pa |
| Borrowing rate credit facility : | 11.50% pa |
| Banking: |   |
| Website: | www.norisbank.de |
| Banking options: | Online / Telephone / self-service terminal |
| Free Cash: |   |
| Germany: | Cash Group (9000 Auto) |
| Abroad: | free world |
| | |
The Norisring top bank checking account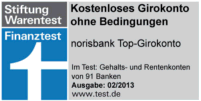 If you want a simple but efficient plus 100% free checking account look that is right at the Noris Bank. As one of only a few banks in Germany, the bank offers a true free checking account with no additional conditions. The Bank does not deliberately focusing on small print or other pitfalls. The account is free plus offers top conditions.

Free cash withdrawal in Germany and Worldwide
Those who have been annoyed with banks with high cash withdrawal fees, is a free and very convenient alternative is the Noris Bank. At over 9,000 Cash Group ATMs and  on all Shell petrol stations, Cash can be withdrawn free of charge cash. Especially practical is that abroad, the money can be withdrawn with the Mastercard charge. This applies accept a MasterCard for all machines, so to speak almost worldwide at any ATM. It does not matter whether 10 or 100 euros will be withdrawn. It does not cost a penny to Noris Bank customers.
The advantages of the Noris Bank checking account at a glance:
For all residential customers – no ifs and buts
Free account management without conditions
Free noris Card (ec / Maestro)
Free credit card on request (credit required)
Free cash at over 9,000 ATMs in Germany
Withdraw cash free world
24/7 service at www.norisbank.de
Convenient account switching service for new customers
If you decide to change to a Noris bank account because you wants to save money in the future, the Noris Bank offers a free transfer service. The Noris Bank accepts all formalities in connection with the exchange account for the new customer if this Noris Bank commissioned. This includes, for example, the transmitting of the new account information to insurance companies, associations, etc..
Simple online banking and approximately 2,700 banking terminals
The Noris Bank is a pure online bank 24 hours a day / 7 days a week, but is accessible to their customers. There is also a free telephone hotline, on the request with an advisor Contact can be made. The everyday things such as transfers, standing orders, and account inquiries can be controlled directly from the online banking by the customer. The Noris Bank is a subsidiary of the German Bank AG. Therefore, the customers are also around 2,700 banking terminals in the branches of Deutsche Bank. From here remittances etc. can be made