Consorsbank checking account
All terms at a glance
| | |
| --- | --- |
| Account management: | |
| Cost: | 0 € a month |
| Conditions: | – |
| Current bonus offer: | 50 euros |
| Cards: | |
| EC-/Maestro: | yes, free |
| Credit Card: | yes, free |
| Interest: | |
| Credit interest daily allowance: | 1.00% pa |
| Borrowing rate credit facility: | 8.50% pa |
| Banking: | |
| Website: | www.consorsbank.de |
| Banking options: | online |
| Free Cash: | |
| Germany: | each machine free |
| Abroad: | free world |
| | |
The Cortal Consors checking account
Formerly call Cortal Consors, Consorsbank is a French online bank that is known for the excellent conditions of their securities account with German customers. For overnight money investors, the bank should is not unknown. In addition to good interest rates for existing customers, there are always attractive offers for new customers,  especially with good interest rate and a long warranty. But the Cortal Consors offers more than just financial investment. The free checking account with no minimum input level is suitable for everyone who not only want  just the free banking, but also a good range of services. To include a checking account card and a credit card, which will also be issued free of charge. With the credit card can be taken at almost any ATM cash free of charge worldwide.

Secure 50 euros in salary Input: current bonus offer!
If you open your first checking account and the make at least one deposit by 30 April 2014, you get a  one-time bonus credit of €50 as joining bonus.
Cash back on any card purchase
Pay your shopping at the supermarket with cash rather than card? As a customer of Consorsbank the card payment is particularly attractive! Because, everytime you pay at the any store or do Internet Shopping with Consorsbank Credit Card, you get a credit of 0.10 euros (10 cents) directly deposited into your Consorsbank account! With no extra effort, it is thus possible to pocket up to €100 euros per calendar year as an added bonus.
Free cash withdraw – anywhere, anytime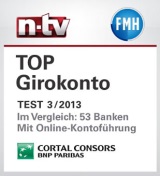 The search for the perfect ATMs thing of the past with Consorsbank. At almost any ATM worldwide and also in Germany you can withdraw free cash – without any additional charges or fees. This applies to withdrawals using the free Visa Classic card, which is included in the account package, a total of more than 58,000 ATMs in Germany over one million ATMs worldwide.
The advantages at a glance:
Freedom and flexibility through free banking
Includes free girocard / V PAY
Withdraw free cash abroad with the VISA Classic
Free cash at 90% of the ATMs in Germany
Overdraft on demand (credit ratings) with only 8.50 percent interest per annum
50 EUR one-time joining bonus
Consorsbank Overnight money Account, Trading Demat accont and checking account at a glance
With Cortal Consors you get a completely free checking bank account, which makes it possible to also do online securities trading in parallel the. All standing orders and wire transfers are performed free of charge. Thus, it is a perfect offer for customers who need more than just a simple checking account but who simply want to make use the advantage of all services which are free or cheap from a single source. Once logged in from home, you can start using online banking or securities trading without a need to be chang between providers.