Looking for the best German bank for English speakers or a German bank with English-language online banking? Although few in number, here are some English banks which offer English language bank services in Germany.
Below is a list of the best German banks for English speakers with online banking and service in English.
I. Free Bank Accounts
1. Commerzbank
Commerzbank is one of the big banks in Germany, and you will most likely find English-speaking staff at the bank. However, you may need an appointment to meet with the staff to open an account. This can be avoided if you apply online.
---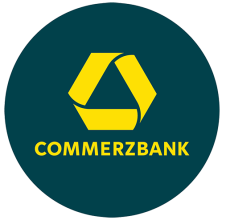 Commerzbank
Free Bank account (€700 monthly deposits)
English Customer Support
Negative interest above €50,000
Basic English Website and App
Joining Bonus (€50)
---
For the 24 hours Commerzbank helpline/hotline in English language phone support, click here
A free bank account (with €700 monthly deposit).
English online banking website
English speaking staff at select bank branches, but appointments may be needed
Joining bonus – chances of earning a joining bonus
2. N26
Since N26 is an online-only bank (i.e., N26 does not have bank branches), the bank account can be used with a smartphone or internet banking.
---
N26
Free Standard bank account)
English App and Website
English (also IT, ES, FR) Customer Support
Free Virtual Mastercard
Free cash withdrawals (3x per month) from NFC-enabled ATMs
---
Free Checking account with Modern banking facilities
Free cash withdrawals using Virtual Mastercard
Smartphone app settings (lock card / unlock with just one click)
English online banking and banking app
English website and support
All transactions in real-time on the smartphone and the desktop at a glance
Free Transfer in real-time
The account opening is the fastest in Europe – in just 8 minutes via Smartphone or online
3. DKB
DKB bank is one of the best bank accounts in Germany, providing a Free bank account with a free Visa Debit Card for worldwide free cash withdrawal and payments without foreign transaction charges.
Recently, it is now possible to also use the DKB app in English. The DKB app provides switching to the English language and makes banking with DKB more accessible and user-friendly for English speakers.
DKB Bank
Free Account (€700 deposit)
Free Cash Withdrawal
English DKB App
Free ISIC Card for Students
Free Visa Debit Card
Free Worldwide Payments using Visa
Free Depot Account
---
Paid Bank Accounts
1. Deutsche Bank
This is the go-to bank for English speakers as it provides a German bank account with English customer service.
However, convenience comes at a price. Most of the branches have English-speaking staff for international clients. It also offers an English online banking portal and an English-speaking phone banking service. But for the basic bank account, Deutsche bank charges €6.90 per month, irrespective of your monthly deposit. However, the exception applies if you are a student since a student bank account is free of charge.
---
Deutsche Bank
€6.90 pm
Free for Students
English Website and App
English Customer Support
---
English customer service (English-speaking staff at the bank – make an appointment)
English online banking website
English-speaking phone hotline ((+49) 069-910 10039 – (Mon – Fri) 08:00-22:00)

€6.90 per month
Formerly called Number26, this bank provides modern facilities and is competing for one of the top spots. We suggest N26 as it is one of the best German banks with a free german bank account for English-speaking customers new to Germany as it provides English-language customer support. In addition to English language support, you can also have support in one of the other languages, such as Italian, Spanish, French or German.
Targobank
Formerly part of Citibank, Targobank is now a separate entity. English speakers can still switch your online banking to English from German, however, this bank no longer provides English language hotline or bank staff.
Targobank login option can be switched between English and German using a tab on top of your login page.
Free Bank account, but requires a monthly deposit such as a salary account.
English language internet banking website
Free cash via ATMs all cash pool
Free securities account