Travelling home once a year or regularly flying for business, it always helps to collect flyer miles for that free trip, upgrade or status for that lounge access. One of the ways to collect those miles are by using an Airline credit card which also allows you to earn miles when you spend. Co-branded airline credit card with perks like priority boarding, waived bag fees, and so on also allows you to higher earning potential and greater flexibility.
Unlike the US, airline credit card choices are limited in Germany, but there are still plenty of frequent flyer programs and credit cards to choose from. This page lists the frequent flyer programs and the best airline credit cards in Germany.
Which Airline Loyalty Program?
There are many airline loyalty programs out there, and it can be difficult to determine which is the best for you. Here are a few things to consider when choosing an airline loyalty program:
The airline or airlines you fly most often.
The destinations you travel to most often.
The redemption options.
The earning and redemption rates.
Elite status benefits.
Ultimately, the best loyalty program for you will depend on your personal travel patterns and preferences. It may be helpful to join a few loyalty programs and see which works best for you.
Airline Alliances
Airlines within an alliance allow you to collect miles in one airline of the alliance and use them on another airline. So you can choose a credit card which gives you miles for the alliance in which the airline you frequently fly is a member.
Star Alliance – Lufthansa, United and others
One Wold – American Airlines, British Airways, Quantas, and others
Skyteam – KLM, AirFrance, Delta and others
Other Programs: Asia Miles (Cathay Pacific, and others); Etihad; Emirates.
Which card should I get – Miles and More or American Express?
Here is a quick overview of the different Points Credit Card offerings in Germany, the Loyalty Program, and Partner Airlines to which you can redeem or transfer the points.
Credit Card
Loyalty Program
Airline/Partner Alliance
Miles and More Credit Cards
Miles and More
Lufthansa/Star Alliance
Barclays Eurowings
Miles and More
Eurowings/Star Alliance
American Express Payback Card
Payback Points
1:1 transferable to Miles and More
American Express
Reward Points
Transferable to:
Asia Miles
British Airways/Oneworld
Delta/Skyteam
Emirates
Etihad
Finnair/Oneworld
Flying Blue (Air France/KLM)/Skyteam
Iberia/Oneworld
Qatar/Oneworld
SAS/Star Alliance
Singapore/Star Alliance
Comparison of Points credit card in Germany
Here is a comparison of credit cards from Lufthansa Miles & More, and American Express:
Credit Card
Cost (/month)
Earn Miles
Welcome Bonus
Features
Miles and More Blue
€4.58 p.m
(or 1375 Miles)
EUR 2 = 1 Mile
+8000 Welcome Award Miles
+ Avis upgrade voucher
–
Miles and More Gold
€9.16 p.m
(or 2750 Miles)
EUR 2 = 1 Mile
+4000 Welcome Award Miles
+Avis weekend rental voucher
+Premium travel insurance
American Express Payback
Free
EUR 2 = 1 Payback point
(1 Payback = 1 Mile)
+4000 Payback points
American Express Blue
Free
EUR 1 = 1 point*
(only with Membership Bonus program for €2.50/pm)
+€45 starting bonus
+ Accident Insurance
American Express Card
€5 p.m
EUR 1 = 1 point*
+Free from second year
+ 1 additional card
+ Travel Insurance
American Express Gold
€12 p.m
EUR 1 = 1 point*
+€72 Starting Bonus
+Additional Card included
– 1 additional card
– Travel insurance (family)
– 90 days return on purchaces
American Express Platinum
€55 p.m
EUR 1 = 1 point*
+ €100 Starting credit
+ €300 (No application fee)
+€200 Annual Travel Credit
+€200 Annual SIXT credit
+90 day return policy on purchaces
+Comprehensive Family Travel insurance (incl Rental)
+2 x Priority Pass
American Express Membership Rewards
American Express Membership Rewards is a loyalty program offered by American Express that allows cardholders to earn points for making purchases with their American Express credit card. These points can then be redeemed for a variety of rewards, including travel, merchandise, gift cards, and experiences.
Transfer Membership Reward points
One of the ways that you can use your American Express Membership Rewards points is by transferring them to a number of airline and hotel loyalty programs. This can allow you to redeem your points for flights, hotel stays, and other travel-related rewards.
Each partner has its own transfer ratio, which is the number of Membership Rewards points you need to transfer in order to receive a certain number of partner points. For example, you might need to transfer 1,000 Membership Rewards points to receive 800 partner points.
Check the latest transfer ratio here: https://www.americanexpress.com/de-de/rewards/membership-rewards/travel/airlines?currenttravelproducttype=Travel
It's important to note that transfer ratios can vary, and some partners may have more favourable ratios than others. Additionally, transfer times may vary depending on the partner, so it's a good idea to check the transfer times before making a transfer.
It's also worth noting that some partners may have restrictions or blackout dates for award travel, so it's a good idea to check the terms and conditions of the partner program before making a transfer.
American Express Point transfer ratio:
| Loyalty Program | Alliance | Transfer Ratio |
| --- | --- | --- |
| Asia Miles | Asia Miles | 5 Points = 4 Asia Miles |
| British Airways Executive Club | Oneworld | 5 Points = 4 Avios |
| Delta SkyMiles | SkyTeam | 3 Points = 2 SkyMiles |
| Emirates Skywards | – | 5 Points = 4 Skywards |
| Etihad Guest | – | 5 Points = 4 Etihad Guest Miles |
| Finnair Plus | Oneworld | 5 Points = 4 Finnair Plus points |
| Flying Blue (AirFrance/KLM) | SkyTeam | 5 Points = 5 Flying Blue Miles |
| Qatar | Oneworld | 5 Points = 4 Avios |
| Iberia | Oneworld | 5 Points = 4 Avios |
| SAS EuroBonus | Star Alliance | 5 Points = 4 EuroBonus |
| Singapore KrisFlyer | Star Alliance | 3 Points = 2 KrisFlyer Miles |
Recommendation:
Do you often fly with Lufthansa?
Miles and More Gold Credit Card. It provides better miles earning possibility, and also very helpful travel insurance.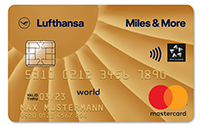 Miles and More Gold Card
Earn Miles and More points
Free Travel Insurance when booking with the card
Do you fly on other airlines or are not sure which loyalty program to select?
American Express Gold Card. It provides excellent travel insurance, 90-day purchase return insurance, as well as an additional card for free,
American Express Gold Card
Earn Membership Reward Points
Comprehensive Travel Insurance
90-day purchase return insurance
Do you want to use the points for other purchases?
American Express Payback card. With the Payback Loyalty program, you can earn points by shopping at many select supermarkets in Germany. It also provides many options to redeem the Payback points for shopping in Germany.
Miles and More Gold Card
Earn Payback Points
Redeem Payback points with Miles and More or with any Loyalty program partner like Supermarkets
Read More