Updated October 2020
N26: The best bank account for newcomer and foreigners in Germany
The advantages at a glance:
A free bank account with no monthly minimum input
Free prepaid Mastercard credit card
Free worldwide cash withdrawals in any ATM with Mastercard (5 times per month for a free account)
English Banking with Mobile app
Modern banking facility with a smartphone
No Credit check

About N26
N26 (formerly called NUMBER 26) is a modern banking facility and since 2016 has a full European banking license from the European Central Bank. Since the bank is governed by German Law, your account is safe and protected by the German Deposit Protection Fund.
N26 account
Terms at a glance
| | |
| --- | --- |
| Account management: | |
| Cost: | €0 pm |
| Conditions: | – |
| Cards: | |
| EC-/Maestro: | – |
| Credit Card: | Mastercard – Free Prepaid Credit Card |
| Interest: | |
| Credit interest checking account: | – |
| Credit interest credit card: | – |
| Overdraft interest: | – |
| Banking: | |
| Website: | N26.com |
| Banking options: | Smartphone App / Internet banking |
| Free Cash: | |
| Germany: | free in all ATM machines accepting Mastercard |
| Abroad: | free worldwide (no transaction charges on withdrawal) |
| | |
Free Bank account
N26 checking account is free of cost. It provides all the facilities of a normal bank account such as IBAN number and transactions. There is no minimum monthly deposit needed.
Free N26 Credit Card
With the bank account, you get a free N26 Credit Card. This is a prepaid credit card, so it does not allow overdrafts.
N26 Mastercard with worldwide withdrawals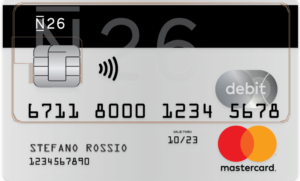 You can only withdraw or use the balance you have on your account. Therefore, it is technically like a debit card, but since it has the Mastercard, you can use it to make transactions wherever Mastercard is accepted. Most importantly, it allows free cash withdrawal at any ATM worldwide that accept Mastercard.
There might be some ATM's which may charge a fee, but according to Number26 they are only about 2%, otherwise, it is free to use the card in the other 98% of the ATM's. The cash withdrawal in other currencies is subject to the exchange rate applied by MasterCard exchange and is generally better than if you change money abroad.
English Service
Although it is a German bank, it provides a complete English service including English Website, English Mobile App, and English Customer service.
English mobile banking App
Called Europe's Most Modern bank, Number26 provides a smartphone app for making all the banking functions on the smartphone. And it is in English. You can check your account balance, make payments, temporary block the card and manage your expenses with the smartphone app. This app is one of the best banking app provided by a bank. Not only does it contain the normal functions required for any banking service, but it also contains functions such as budgeting. However, note that you need a smartphone to open and use the account. The mobile app can be downloaded and used on iPhone with iOS 7 or newer, or Android phone running with Android 4.3 or newer. So if you do not have a phone with the above versions, you cannot complete the process or need to find other ways, possibly by having a virtual android phone. However, beware that you cannot use all the account features like deposit cash, for which you need access to the app at all times.
Schufa Credit check
Many banks require the applicant to have a positive credit rating from the rating agency (Schufa – Read how to get a Credit Report). Once the account is opened, it is recorded in your credit history (not a negative record). This is common in Germany. However, since newcomers do not have a credit record in Germany, some free banks refuse to open an account for them.
Earlier, N26 did not make a credit check or record the account on your credit history. However, since 2016, N26 is a full-fledged bank and checks your credit score prior to opening the bank account and record it on your Schufa account.
But this does not mean it is harder with N26, as with English as a main language, N26 is newcommer and expat and digital nomads friendly.
Overdraft facility
Overdraft means you can use more than the balance in your account and interest is charged to you on the excess amount. The current rate of overdraft is charged at 8.9 %. N26 offers an overdraft facility up to €2000, however, it is only open to customers with a residence registered in Germany and depends on the credit score. This means that if you apply for an overdraft facility, the bank will check your credit score from the credit rating agency SCHUFA and make a record on it.
Fast Account opening – fewer documents required
As already mentioned, since your credit rating is not checked, the account opening process is fast and the documentation required in minimum. In fact, you can open a bank account in 8 minutes. The documents required also are minimum. The requirements are:
A document for Identity verification. This could be your passport irrespective of the country.
You must have an address in Germany, Austria, Ireland, France, Spain, Italy, the Netherlands, Belgium, Portugal, Finland, Luxembourg, Slovenia, Estonia, Greece, and Slovakia. You do not need to provide proof for this address (Anmeldung). You should just be able to receive documents which will be sent to this address.
You must be over 18 years of age.
If you meet these requirements, you can open a bank account. For residents in Germany and Austria, you can use PostIdent
Complete online registration is also possible if you select VideoIdent. However, note that not all Identity documents can be verified using VideoIdent.
How to apply online for N26 bank account? Read the detailed step-by-step instruction to apply for a N26 online account.
For non-residents also
It is now open to residents of Austria, Ireland, France, Spain, Italy, the Netherlands, Belgium, Portugal, Finland, Luxembourg, Slovenia, Estonia, Greece, and Slovakia. So if you are a resident in any of the above countries, you can open a Number26 account.
N26 is working on also servicing residents in more European countries throughout the next year depending on customer demand. Therefore, if you are from a European country please pre-register yourself for the account so that Number26 can determine the demand from the country. Also, pre-registering will also give you advance access when the service is rolled in your country.
CASH26 – N26 Cash deposit
Since N26 is an online bank, it does not have branches where you can deposit money or withdraw cash. However, CASH26 is an N26 bank service which allows you to deposit cash in any of the 3000 locations in Germany.
The bank has a collaboration with different supermarket chains where you can deposit cash into your account or get cash. This includes some of the biggest supermarket chains including PENNY and REAL with has stores in a large number of locations in Germany.
Conditions for cash deposit using CASH26 are:
You can deposit up to €100 a month for free. Extra deposits are charged a fee of 1,5% of the deposit amount.
Minimum deposit amount is €50.
The maximum deposit limit of €999 each day (within 24 hours).
How to deposit cash using CASH26.
Open the N26 app and select CASH26 option.
Select the CASH26 DEPOSIT option and enter the amount of money deposit. (Note: Min €50, Max €999; upto €100 deposit free each month).
Enter your PIN and Confirm to generate a Barcode
Find the branches nearby where you can deposit. You can do this by selecting "Nearby Branches" on the options menu on the top right corner.
Show the generated barcode to the clerk at checkout.
Pay the money and it is automatically deposited to your bank account.
Although there is an option, I do not find it really convenient like using a Cash machine, since you have to deal with people. And as you might have noticed, supermarket clerks at a busy time might not be the friendliest to deal with, especially if you are depositing coins.
The advantages at a glance:
Free bank account with no monthly minimum input
Free prepaid Mastercard credit card
Free worldwide cash withdrawals in any ATM with Mastercard
English Banking with Mobile app
Modern banking facility with a smartphone
No Credit check – No Schufa records
Few Disadvantages
Although this bank account it is as perfect as it can get, for an objective review of N26 it is also important to point out some drawbacks, or you may call shortfalls of the account. These are not major and even other banks have these, so you can live with them without affecting your life too much. Here goes the list
Most online banks do not provide an option for cash deposit at all. But although N26 allows deposit of cash at more than 3000 locations using

Cash26,

there are a few issues with this. The free deposit limit is €100 per month. If you want to deposit more than that, you will be charged 1.5% on the deposit amount. Most importantly, since you have to use a supermarket to deposit cash with the clerk, it is not convenient to deposit a large number of coins without annoying the other people in line.
There is a limit on daily/weekly ATM cash withdrawal and card use. Although the limit is large enough for normal use, some customer might need a higher limit.
No interest on the deposit. Unlike DKB bank, the balance maintained in your account does not give you any interest. But, they are honest and say that this is how they make money and are able to provide a free bank account and Free Mastercard with all these advantages.
Click here to open N26 account now
Click here for a walkthrough step by step instruction on how to open a Number26 account
---
FAQ on N26 Bank Account
How much does Cash Deposit with N26 cost?
You can deposit up to €100 a month for free. Extra deposits are charged a fee of 1,5% of the deposit amount.
What is the min and max amount of Cash Deposit with N26?
The minimum cash deposit amount is €50. You can deposit up to a maximum deposit limit is €999 (within 24 hours)
Can I deposit a cheque at N26?
No, N26 does not support check deposit in the bank account. (https://twitter.com/n26/status/1149571682232782850).
Is N26 safe?
Yes, N26 is a European banking license and has deposit insurance under the German Deposit Protection Scheme which insures all deposits up to €100.000 held in the member states of the European Union.
Can I have an additional N26 Card
Additional Cards are not availialbe for the free basic N26 Account. With N26 You or N26 Metal accounts, you get order an extra N26 World Mastercard (Debitcard) for 10.00 €
N26 ATM withdrawal limit
The maximum withdrawal limit from an ATM in Germany is €2.500. You can change and set a lower withdrawal limit using the mobile App.

What are N26 Credit Card limits?
The maximum spending limit using N26 Credit Card for In-store or online payments is €5.000
The maximum monthly limit (total sum in the past 30 days) for all card transactions is €20.000.

What is N26 ATM withdrawal fee?
3 Free withdrawals per month in Euros (thereafter €2 per withdrawal)
For withdrawals in other currencies an exchange rate of 1.7% applies